HAGER STUDIOS
Original Handmade Lampwork Glass Beads and Jewelry by
Susan Matych-Hager

Private Jewelry Collection
The Private Jewelry Collection is a gallery of some of my work that resides in private collections. If you are interested in any of these pieces, similar designs can be commissioned by contacting me.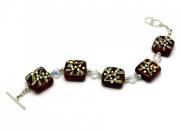 2 photos
This series is one of three Christmas series that I've developed over the past couple of years. It's been very popular with my bead store customers as well as my galleries and at my bead shows.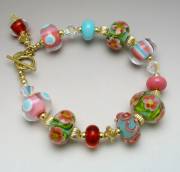 5 photos
Beautiful light salmon pink flowers and hand made vining cane with gold and Swarovski crystals embellish this classical encased floral set. Accents are created with hints of dichroic glass, soft aqua, and vanilla white. Private Collection.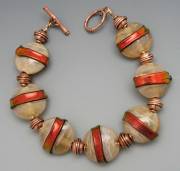 5 photos
Flashy copper dichroic glass bands stripe this milky amber glass lentil to make a stunning set with copper and leather cord. Private collection.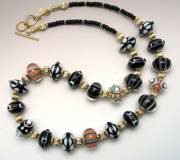 9 photos
This beautiful necklace was recently commissioned. The classic black and white beads combined with gold-filled findings is lovely. The coral and green accents spark interest and give a unique quality to the design. Private Collection.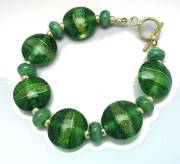 4 photos
Rivers of gold dichroic glass running through beautiful sparkling green lentils are echoed by the gold findings in this simple, yet eye-catching jewelry. Private Collection.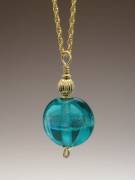 4 photos
These beautiful teal lentils sparkle with stunning dichroic glass embedded in each lentil bead. Private Collection.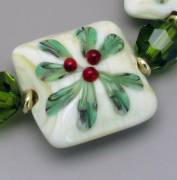 4 photos
Handpulled vining cane creates beautiful greens embellished by crystal red berries on an ivory background. The jewelry pieces are stunningly elegant. Private Collection.
Copyright © 2023 Hager Studios. All Rights Reserved.
Powered by
Web Shop Manager
.