HAGER STUDIOS
Original Handmade Lampwork Glass Beads and Jewelry by
Susan Matych-Hager

Event:

CLASS: Frit Beads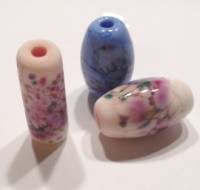 Description:
FRIT BEADS
A simple but effective way to decorate glass beads is through the use of glass frit (small particles of glass). Frit is created by crushing and grinding or thermal shocking glass in water. In this class we will create our own frit through thermal shock techniques. We will practice creating round and cylinder bead shapes to which we will apply frit.
Prerequisite: Torch Safety, Studio Practices and Basic Skills
Copyright © 2023 Hager Studios. All Rights Reserved.
Powered by
Web Shop Manager
.